Jorge Luis Borges once said in a lecture, "Sometimes, looking at the many books I have at home, I feel I shall die before I have come to the end of them, and yet I cannot resist the temptation of buying new books. When I go, when I walk inside a library, I find a book on one of my hobbies ... I say to myself, "What a pity I can't buy that book because I already have a copy at home." In the digital age, Borges's book addiction will be compounded by a decision point for the reader of whether buying the Kindle version alongside the paperback. In the age of translation, the problem is more complicated. I already owned the book, it's right there on the top shelf, read it once or twice, and now you tell me it's being translated by that well-regarded translator and published by that reputable publisher and the translation is coming out in that awesomely badass cover design?
What to look out for in English translation in these islands post-2022? The list last year needs an update. Online detective work produced the following works of fiction.
For me, the surprising thing about the works on the list was the sheer diversity of their themes and their experimental approaches. The texts played with forms and genres, expanding the notion of the novel and carrying forward the tradition of novel-writing into exciting, unexplored Filipino imaginary.
Some links go to the publishers' page in online stores, but I do not receive any commission or referral fees.

I'm sure I missed something, but here goes:
1. For B (or How Love Devastates Four Out of Every Five of Us) by Ricky Lee, translated by Noelle Q. De Jesus (Ateneo de Manila University Press).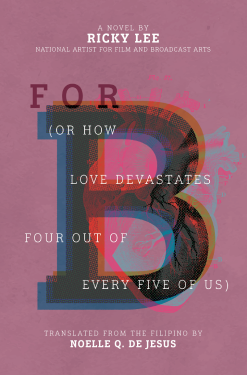 That this appeared in translation at all was a miracle (although one could say that for any novel in this list). It should be hard to translate, given the highly colloquial and idiomatic register of the original Filipino (and Taglish: the Tagalog-English magic ginisa mix). I already sampled the first story. The translator's compositional choices suited the writer's emotive and cinematic style. Ricky Lee was the guru of Filipino film writing, scriptwriter of countless film classics. For B was his first novel: an episodic, experimental, and metafictional discourse on love and its devastation. Told in loosely linked stories, the novel unfurled like a melodramatic film treatment filtered through a relentless and heartrending brand of emo.
The publisher's page said it is Lee's first published English translation of his work. Not true, if we count the bilingual monograph Salome: A Filipino Filmscript (University of Wisconsin--Madison, Center for Southeast Asian Studies, 1993), translated by Rofel Brion.


2. Luha ng Buwaya (Crocodile's Tears) by Amado V. Hernandez, translated by Danton Remoto (Penguin Random House SEA)
I already listed this last year, but this translation of a classic 1962 novel will be appearing sometime this year. Amado V. Hernandez's novel masterfully dramatized the conflict between the landlord and the landless, through the specifics of its own time and place. What was brilliant about Hernandez's fierce novel was the way it did not end with an astute diagnosis of Filipino post-war agrarian soecity's ills. It also contained within it the practical ideas and strategies to fight the corrupt crocodiles in our midst.

Like his first novel Mga Ibong Mandaragit (The Preying Birds), also translated by Danton Remoto, the subject was land grabbing and the unjust tenancy system. But it resembled more Lazaro Francisco's The World Is Still Beautiful (translated by Mona P. Highley) in terms of action and plot. F. Sionil José, in his five Rosales novels, also dealt partly with the same concerns about class and agrarian conflicts, but I prefer the approach taken by Hernandez and Francisco in their respective novels.

Cover above was taken from the catalog of Penguin Random House SEA.
3. The Ravaged World: The Short Fiction of Rosario de Guzman-Lingat, translated by Soledad S. Reyes (Ateneo de Manila University Press)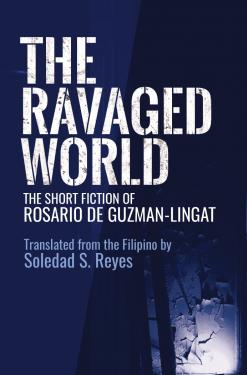 .
This is the second translated short story collection and the fifth translated book of Rosario de Guzman-Lingat! All were meticulously completed and curated by Soledad S. Reyes. Going through Lingat's novels and stories--What Now, Ricky?; The Death of Summer; The Cloak of God; Ang Balabal ng Diyos / Ang Silid ng Makasalanan; The Locked Door and Other Stories--one was struck by the thematic variety of her works. Her three translated novels and one novella, for example, were all different plot-wise.
4. Dili Pwede Mogawas ug Ubang Mga Sugilanon / Can't Go Out and Other Stories by Elizabeth Joy Serrano-Quijano, translated from Cebuano by John Bengan (Ateneo de Davao University Publication Office, 2022)
This was published late last year. For samples of Serrano-Quijano's stories, see "The Pregnant Woman from Zamboanga" in World Literature Today, "I am Robin Nabaro" in Anomaly, and the title story "Can't Go Out" in Words Without Borders.

* * *

Back in June, during the Philippine Book Festival at the World Trade Center in Pasay City, the National Book Development Board (NBDB) announced the winners of its Translation Subsidy Program. These fictional works were among the winning books that will be translated and published in the next two years or so. The cover pages were those from the original language.
5. The Vanished, translation of Ang Nawawala by Chuckberry J. Pascual. Publisher: 19th Avenida Publishing House
Reviews in Goodreads described this as an anthology of detective stories, all featuring Bree, a gay receptionist who solved various cases of missing objects. A supposedly fun, genre-defying book with social and political commentaries. I'm already sold, but the book is sold out? I'm trying to find a copy. The copies in Shopee and Lazada have vanished. Just the perfect case for Bree.

I'm not sure who will be translating, possibly the author himself who is an accomplished translator from English to Filipino. His translation credits include four works of fiction by Cristina Pantoja-Hidalgo: Sa Bayan ng Nagngangalit na Buwan (Where Only the Moon Rages), Kundiman ng Panahong Naiwan (Ballad of a Lost Season), Catch a Falling Star (Filipino Edition), and Mga Kuwentong Bayan para sa Gabing Maulan (Tales for a Rainy Night). He also did the Filipino translation of Ilustrado by Miguel Syjuco.
6. The Abyss Beneath Our Feet, translation of Ang Bangin sa Ilalim ng Ating mga Paa by Ronaldo Vivo Jr.. Translator: Mark Frederick Bulandus. Publisher: 19th Avenida Publishing House.
The second book of a projected trilogy called Dreamland, The Abyss Beneath Our Feet embodied the precarious state of living under a police state, where every breath one takes clouded the atmosphere of state-sponsored "violence, corruption, and criminality" (as per Resil B. Mojares). In 1998, the British novelist and screenwriter Alex Garland wrote a noir novel set in Manila called The Tesseract. It was a novel of pure noir atmosphere, palpable with suggestions and dark meanings as the protagonist meandered the unlighted streets, fell into a manhole, and, literally covered in muck and filth, escaped into the night. Ronaldo Vivo Jr. took Garland's exercise of unraveling a tesseract one step further. He leveled up the elements of a noir novel, immersing both characters and readers into a typical nightmare, breathing life into the dark suggestions and quivering meanings. In vivo (within the living organism), experiments were done on the body of human beings. In Vivo's novel, state violence was made flesh and bone. The violent work was played out and performed (unraveled) directly on the body of the individual and the body politic. His is the violent novel that could jolt readers out of their comfort zones and reveries and make them trip directly into a live electrical wire.
7. Arkipelago by January Yap. To be published in translation by Advaux.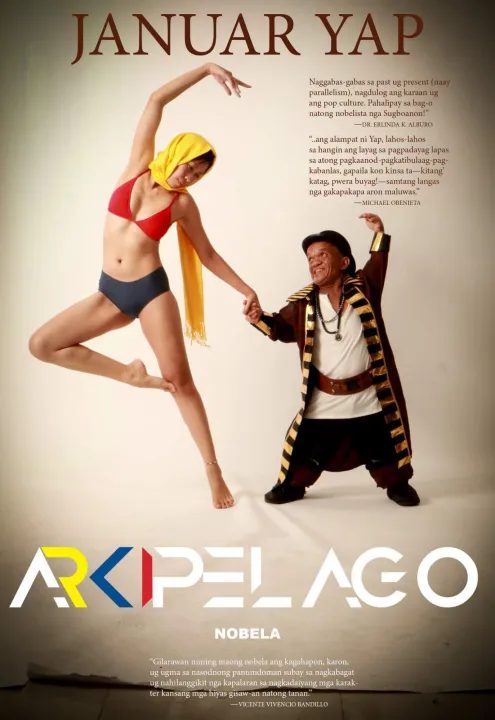 SunStar Cebu described this Cebuano novel as "a composite novel, talks of lost ships, immortal dwarves, invisible texts, fugitive birds, all in a dizzying interaction with history and politics. ... "Arkipelago" mixes elements in history, pop culture, urban legends, indigenous and foreign myths, while its seafaring narrative covers an expansive setting from Culion Island, Bucas Grande in Surigao to as far as Benham Rise."

Trust not the author, but in his own words:
The novel is launched by a chapter that is set in a striptease joint that features a surreal balancing contest among its dancers. A stripper is identified by a number corresponding to a year of political shift in Philippine history — from colonial regimes to uprisings. The distinct choreography depicting each regime and its life story alludes to circumstances in history as well. It ends with the elopement of the diminutive gigolo and the club's most prized dancer.

A chapter establishes the connection between a present-day fishing expedition and the transport of lepers from Cebu to an asylum colony in Western Philippines almost a century earlier.

There is the recurring characterization of the village savant shapeshifting through the chapters — there's the suicidal mad writer who dons a [José] Rizal suit; the perennial and persistent nuisance candidate of presidential elections who retires to an obscure island; the mysterious warden in an isolated base far off East of the archipelago; a professor in perpetual soul-searching; the boat captain who hangs onto his ancient map; among others. Each of them thinks broadly of the nation from where he is in the archipelago, claiming space as though the capital didn't matter. They are storytellers whose tales have the consciousness of an existence of the "other" islands and the seas between. The seas are nothing but a bridge that connects their tales.

Again: sold. It had me at "seafaring".

It's not clear to me what language this will be translated in and who the translator will be. One of Januar Yap's stories, "The Savant", appeared in English translation by John Bengan in Ulirát: Best Contemporary Stories in Translation from the Philippines (2021). (Cebuano book in Lazada).
8. Ang Kompedio ng mga Imposibleng Bagay (A Compendium of Impossible Things) by Carlo Paulo Pacolor. Publisher: Everything's Fine PH.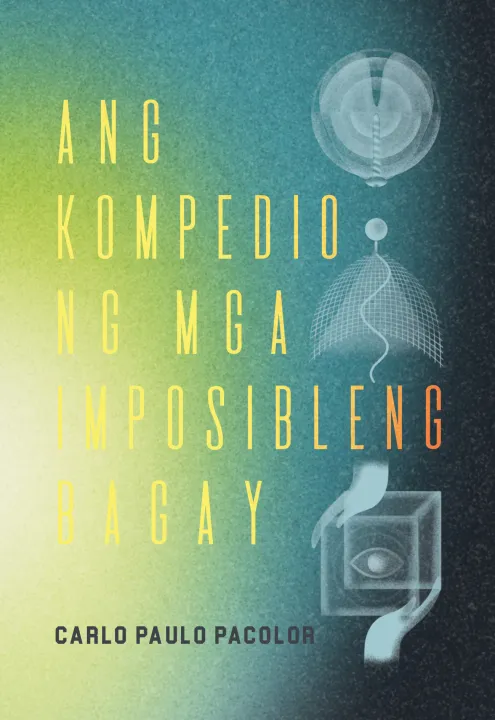 Synopsis in Lazada:
Someone locks oneself inside an apartment unit using a mysterious lock purchased from a Chinese merchant. Many years later, a demolition crew finds someone mysteriously locked inside one of the rooms in the apartment complex they were about to blow down. A video game player has finally figured out the game's puzzle but ended up dying in extremely peculiar circumstances. Diamonds and pearls emerges from the mouth of a call center worker during a tense team party. A fortune teller discovers her heart burning along with everything else around her. The seismologist records the strongest earthquake in history but no one else have seemed to notice. These and other stories of the improbable from the brilliant mind of Pacolor, finally put to print after many years, are written in a fierce poetic style that heightens the reader's sense of bewilderment.

This is giving me the vibe of The Lives of Things by José Saramago. Carlo Paulo Pacolor is a performance artist and their stories appears to be performative pieces based on titles alone: "The Boy Who Wanted to Be a Cockroach" and "When He Wakes Up, Mushrooms Are Sprouting from His Nose". Mash these titles and they sounded like Kafka (when he woke up, he turned into a cockroach) and Gogol (the nose). Both stories appeared in
Ulirát: Best Contemporary Stories in Translation from the Philippines
, translated
by Soleil David and Erika M. Carreon, respectively.
Center for the Art of Translation published a piece (trans. Soleil David) from the compendium of impossible things here.

* * *

Plus, three novels that will be hard to miss, all from the same translator.
9. Colon: A Novel by Rogelio Braga. Translator: Kristine Ong Muslim. Publisher: the87press

The plot, as described in Goodreads, had the heft and sweep of an epic and a sobering reckoning for readers unfamiliar with the subject of the Moro, the wicked problem of the neverending wars and struggles in Mindanao, and the painful collisions of past and present. Colon's backdrop was the Marcos dictatorship. What was it like to be a Moro during those times of martial rule? Several online reviews made a case for reading a powerful narrative laying bare the raw and festering wounds in the south. Rogelio was reclaiming the silenced story of the Moro with nuance, power, and poignancy. Book link

10. Book of the Damned by Amado Anthony G. Mendoza III. Translator: Kristine Ong Muslim.
Winner of the 2023 PEN/Heim Translation Fund Grant, the novel sounded irresistible from the compelling press release.

From the judges' citation: Charting President Caesar Repaso's dictatorship in the Philippines and its aftermath through multiple voices and narrators who may or may not be invested in the truth, A. A. Mendoza III's Book of the Damned shrewdly fuses the figure of the artist with that of the dictator to problematize the vexed question of how the making of history is both at odds and complicit with the recording thereof. Disorienting, exhilarating, and endlessly compelling throughout, Kristine Ong Muslim's masterly translation brilliantly recreates a labyrinthine construction of intertexts, archival data, historical facts, gossip, white lies, and ceaseless back-and-forths through the past, the present, and the hereafter. A spellbinding and essential addition to the canon of post-dictatorship literature.
The best writers grappled with the ethical dimension of power. They explored the acts of collaborators and all the conspirators. An excerpt from the novel (here) read like the pages of a literary manifesto, including the cry and the dedication. Aklat ng mga Naiwan is already a cult book, hard to find and slippery. It is the first in a trilogy, one of the building blocks to complicity and conditioning of memory toward national delusion or some such historical and everyday tragedies in the Philippines.

The novelist, Arlo Mendoza, is also an accomplished translator from several languages, notably in Indonesian. His translation into Filipino of Eka Kurniawan's Mga Himutok sa Palikuran at Iba Pang Kuwento (Frustrations in the Toilet and Other Stories) recently won the Best Translated Book in the Philippine National Book Awards.
11. Asinkrono: A Novel by Mesándel Virtusio Arguelles. Translator: Kristine Ong Muslim.
The first foray into novel writing by the peerless poet Ayer Arguelles, Asinkrono was bound to be a milestone after two decades of Ayer's fearless poetry writing. One online review made mention of its fragmentary nature, with chapters written as a play, memoir, screenplay, prose poetry, and story outline. I can't find the original novel in any online book shops, except here. If his innovative erasure poetry is any indication, this work will be just as exhilarating for allowing readers to excavate and exact their own meanings from the remnant of a deconstructive and reconstructive process.