"The danger of making a list," said Borges, "is that the omissions stand out and that people think of you as being insensitive." For every list of best books, a counter-list could be countered. To which another more supposedly progressive and radical list could be put forward. Ad infinitum. The argument would never be settled. So we should just continue reading and sampling books until we encounter something, a work so profound and mind-shattering it would render the act of list-making pointless. A book just landed on your desk and it shattered your preconceived notions of what "best" or "worthy" or <insert adjective> is.

Eight years ago I posted a list of my personal best 20th century Philippines novels. Looking at this list now after having read half of the books and sampled three, I could not help but be bothered with some of my choices. It was not the omissions that stood out; a couple of novels in the list did not belong there. I was tempted to produce a counter-list to my own list. (My new list will have to drop the novels by Edith L. Tiempo and Timothy Mo. I want to replace them with Dogeaters by Jessica Hagedorn and Bibliolepsy by Gina Apostol. And I will have to rethink the ranking although the top of the list remains top.)

But for the Lovers by Wilfrido D. Nolledo topped my list of the best Philippine novel of the previous century. Eight years after reading the novel, I'm still convinced it deserved that position. I posted something about the novel here.
By the end of 2015, I included But for the Lovers in an obligatory and anticlimactic best of the year list. I still stood by my fanboy twaddle on the book:

I probably have not read a finer Philippine novel in English in But for the Lovers by Wilfrido D. Nolledo. First published in 1970, it became extinct until miraculously resurrected in 1994 by Dalkey Archive Press. It was a fountainhead of creativity ... Surreal and savage scenes were interspersed with scenes of great hilarity and profundity. The large, multi-national cast of characters floated in a state of dreaming, half-waking, or in-between. The wartime set-pieces unravelled in magical fashion. It's a powerful work of postcolonial perversity. Hyperbole does not give it justice.

The Philippine literary event of the year was of course the first Philippine edition of But for the Lovers. Exploding Galaxies, a new publisher in the country, made the radical decision to select Nolledo's novel for its first publishing venture. I almost envy readers who will discover Nolledo's prose for the first time.
That it took more than 50 years for this novel to appear in the home country of its author said a lot about the myopia of the Philippine literary establishment. But for Exploding Galaxies, the novel would have remained a largely underappreciated cult book, under the radar of potential readers in Filipinas. And just look at that elegant, simple, text-based cover they chose for the new edition, eclipsing the ghastly Dalkey Archive cover (and the original 1970 Dutton cover) by a light-year. Respect! I could not wait what neglected supernova book Exploding Galaxies will bring next to the market. How could they top Nolledo's masterpiece as inaugural book?

* * *
On the subject of lists, might as well share some out-of-print Filipino books that were on my wish list for some time now. Here's my personal list of (neglected) Philippine books that need to be reissued or reprinted. As in, now.

Sangria Tomorrow (1981) and Vaya con Virgo (1984) – two other novels by Nolledo – have both won the Palanca Grand Prize for the Novel but had never appeared in book form! UST Publishing House published a collection of Nolledo's stories, Cadena de Amor and Other Short Stories (2004) but I could no longer find a copy. A reprint would be most appreciated, UST.

Edel Garcellano produced what were arguably the two most formally innovative novels in Filipino. Ficcion (1978) and Maikling Imbestigasyon ng Isang Mahabang Pangungulila (1990, A Brief Investigation to a Long Melancholia). Two novels out of print. I described both here.


Silang Nagigising sa Madaling-Araw (1993, Those Who Awaken at Dawn), a 1956 Iloko novel by Constante C. Casabar, translated into Filipino by Reynaldo A. Duque. Ateneo de Manila University Press brought a bilingual edition, now out of print. How often does one encounter an Ilocano novel in translation?

Photo by Edgar Calabia Samar (X)

Ang Daigdig ng Tao (1989, This Earth of Mankind), a novel by Pramoedya Ananta Toer translated from Indonesian to Filipino by Thelma B. Kintanar. This is part of a series of Filipino translations of works (from original language or from English translations) by Southeast Asian and East Asian writers that were published in the late 1980s by Solidaridad Publishing House.
The Lady in the Market (1976), a 1935 novel by Magdalena G. Jalandoni, translated from Hiligaynon by Edward D. Defensor. This is part of the translation series of the Visayan Studies Program of UP College of Iloilo. Jalandoni has one other novel in translation: Juanita Cruz (2006).

The Peninsulars (1964), the first of a series of historical novels by Linda Ty-Casper. This should be a good companion novel to 1762 by Vin dela Serna Lopez.
Florante at Laura (2008), epic poetry by Francisco Balagtas edited by Virgilio S. Almario, with Marne L. Kilates's English translation. Published as UP Centennial edition, this lavishly illustrated bilngual volume contains Almario's reconstruction of Balagtas's text. This may still be in print but I don't know where to find a copy.
Planet Waves (1989), the first novel by Eric Gamalinda published by New Day Publishers. One one-star review in Goodreads landed this on my wish list. Yes, frustrated one-star reviews were often more informative than gushing five-star ones.
A Grammar of Dreams (1997), short stories by N.V.M. Gonzalez. I met the author during a tribute program for him in the UP Faculty Center in celebration of his winning the National Artist award. I seemed to remember that this book was launched on the same day, or at least copies were exhibited outside the venue. I've read several works by Gonzalez since then, and I'd like to revisit his work through this collection.

Diyos ng Maliliit na Bagay (2002), Monico M. Atienza's Filipino translation of the bestseller novel The God of Small Things by Arundhati Roy.
Atienza was my teacher in a Rizal course (PI 100) in UP.
This was published by Sentro ng Wikang Filipino which made available for downloading some of its published translations (e.g., Pagkakasala at Kaparusahan, Dostoyevsky's Crime and Punsishment directly from Russian to Filipino by Herman Manalo Bognot).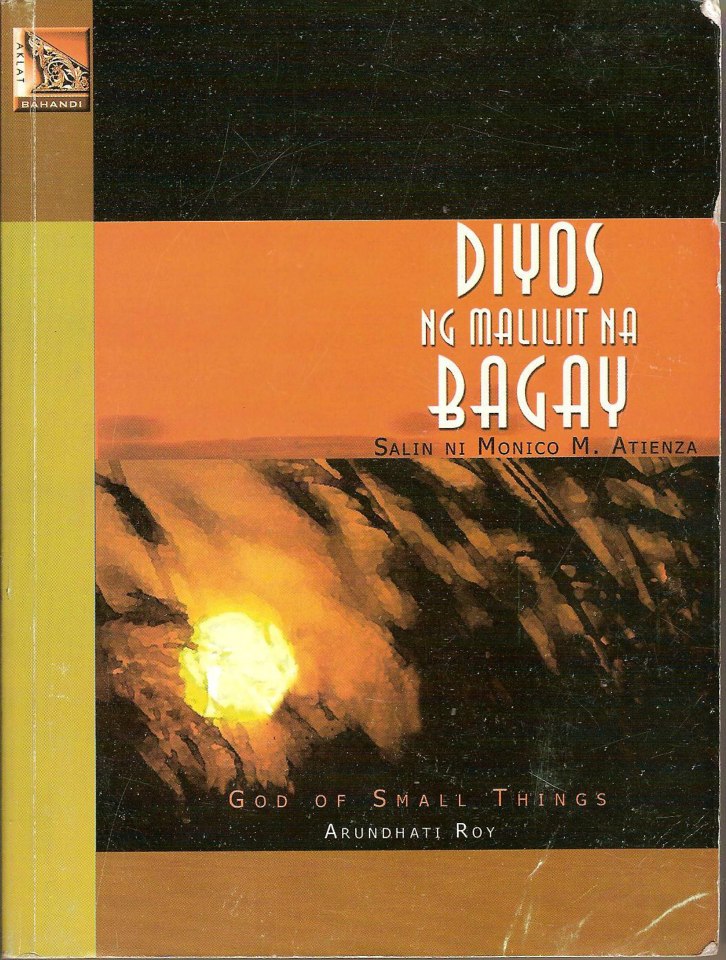 Sa Kagubatan ng Lungsod
(1964, In the Urban Jungle) by Edgardo M. Reyes. Not sure who published this; maybe it's serialized in a Filipino magazine. I'll read any novel by Reyes. His most famous work
Sa Mga Kuko ng Liwanag
was already translated into English as "In the Clutches of Daylight" by Noelle Q. De Jesus but the publication was on hold as it encountered
translation rights issue
. Apparently, Mona P. Highley also made a translation of this novel (or at least the novel's first chapter as mentioned by EMR in an interview).
The World Is Still Beautiful
, Highley's translation of Lazaro Francisco's classic novel
Maganda Pa ang Daigdig
, was
published in 2019
by Ateneo de Manila University Press. In her introduction to
Halina sa Ating Bukas
(Welcome to Our Tomorrow) by Macario Pineda, Soledad S. Reyes mentioned that Highley, a scholar in Philippine literature, produced translations of Lazaro Francisco's novels. Here's hoping one of them was
Daluyong
(1961, Storm Surge), the sequel to
The World Is Still Beautiful
.
Ilaw sa Hilaga
(1932,
Northern Lights
or
Light in the North
), another obra maestra of Lazaro Francisco, had also been translated twice(!), by
Marne L. Kilates
and by
Manuelita Contreras-Cabrera
, who were possibly working on their own version at the same time. Who knows if and when we'll ever get to see one or both of the English versions. I contented myself with reading the
Tagalog original
.
Publish or perish: that is also the universal predicament for translations of tangible works of literary heritage to be appreciated by readers in a target language.

(I should make another list: must-translate Filipino books.)
Now, if only the above will see print, my dear local publishers. Thank you in advance.